Throughout my entire mid-term exams, I had been lusting over a few pair of shoes that I would Google/Ebay EVERY DAY! No wonder I had the most pathetic set of exams ever. I might just fail Business Math, but then again, I think my teacher might just pass me.
Usually, I would have had a million shoes on my 'shopping list' but this time, I sieved through my list and came up with the most exotic ones from the list (most expensive, rather) and I've decided to obtain them gradually, over this promising year, 2011. Good luck to my Mom and Dad.
I'll be listing them in random order because I don't know which ones I'll be getting first.
1. The Jessica Simpson Dany
Just observe these beauties. The platforms look kinda scary but from what I've heard, they're surprisingly easy to walk in. They sold like hot lava cakes when they were first launched in the Jessica Simpson Fall 2010 Collection. Sellers on Ebay priced them at $150-200 after they were sold out, just because they were on high demand. Just imagine! I hope they didn't get the money because these were being sold for less than a 100 U.S. Dollars at
JessicaSimpsonCollection.com
and they were soon to be restocked online. Sad thing was, and still is, that the site doesn't deliver overseas! I looked everywhere for these babies but only Ebay had them, sky-rocketing the prices. Hence, I waited.
After they were restocked online, the prices leveled down and I've finally ordered a pair of the DANY for myself in Tan. I'm super excited. They also have new editions of these in Velvet Purple, Pewter and Grey Snake Skin. I'm also eying the Snake-skin pair, just in case I find them online somewhere.
2. Forever 21 Miu Miu Inspired Platforms
Maybe I'm a season too late because these ones are sold out on
Forever21.com
but I'm still pursuing them. Never the one to give up, I'll find a pair that fits me on Ebay or some other online store and get my hands on them. They were up for grabs in August last year and if I'm not mistaken, they too sold out quickly enough owing to the price being only $25.80. During that time, we didn't even have a Forever21 store in India. Poor me.
These Mary Janes have been directly inspired from Miu Miu's Platforms, with the chunky heels. Lovely, aren't they?
These are the originals from Miu Miu.
The knock-offs by Forever21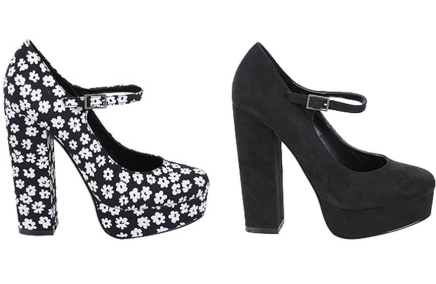 3. Jeffrey Campbell Lita
You see them on almost every fashion blogger on Lookbook.nu, and Chictopia but maybe that's why they're so sought after. Jeffrey Campbell's Litas have a class of their own. The platforms and the heels. Just love.
Bonus: Miu Miu Crystal Embellished Swallow Mary Janes
These Miu Mius are just a part of my crazy shoe fantasy. I wouldn't want them in pink but those beige ones are just fine. They're way out of my budget and hence, not in my immediate spending memo. However, I found replicas of these online, and I was wondering if it was worth buying the duplicate pair. I wouldn't want to wear fake products but somehow, I got really very tempted. What do you think about wearing/buying inauthentic products?
Fake or Nothing?